News Anchor and TV Host Tamron Hall's TV Natural Hair Debut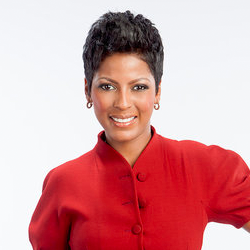 It's always a good day when you wake up to find one of your favorite television show host and anchor rocking their natural hair on television.
Well, that is exactly what Tamron Hall (NBC's Today Show anchor and MSNBC's News Nation host) did today as she debuted her gorgeous TWA on national television.
This beauty is known for her super cute pixie hair cut, which btw is always LAID, but today she decided to switch it up a bit and ROCK HER NATURAL CURLS, which shocked everyone and had the Natural Hair Community waving their banners of support!
We are all SCREAMING "Way to go, Tamron"!!
We definitely need more women in the spotlight revealing their own natural hair and feeling unashamed about it. I know a lot of television show hosts, news anchors, models, actresses, etc… who hide behind the flatiron, wigs, and weaves because they are unsure how the media, their fans, viewers, and even their bosses and colleagues would feel about their hair. I'm so glad Tamron and many others are breaking down the barriers and stereotypes about natural hair and the beauty of it.
What did you think of her hair? Do you prefer her hair to be straightened or in its naturally curly state? We want to hear from you.
Until Next Time,
Take Care & God Bless!
Tiffany Nichols Design
Email: TiffanyNicholsDesign@gmail.com
Blog: www.TiffanyNicholsDesign.blogspot.com
YouTube: www.YouTube.com/TiffanyNicholsDesign
Instagram: www.Instagram.com/TiffanyNicholsDesign
Facebook: www.Facebook.com/TiffanyNicholsDesign
Uplifting, Educating, and Promoting the Beauty of Natural Hair